This is a new venture, thanks to the hard work of the organiser, Natasha Murray. Over fifty authors will be at Worthing Pier from 9.00 – 6.00 this Sunday, March 4th. If you are in the area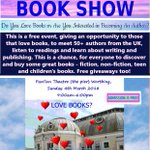 , please pop in. It's free. Yay!
Please come and make it a success. It might be early to think of Christmas, but when else will you get the chance to buy signed copies of books for all ages and all genres? There's also a full programme of readings and speakers throughout the day.
Make a date, this Sunday at the Pavilion Theatre, Worthing Pier.