What an excellent series is the BBC programme The Blitz; the Bombs that changed Britain. I often find that there are programmes which feed into my writing. Last year, when I was writing Ranter's Wharf, the was a programme about poverty through the decades of the 19thC. So thank you BBC for your excellent history programmes.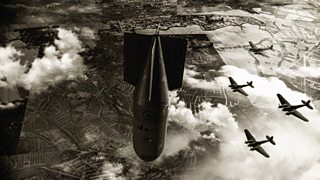 The Blitz looks at specific bombs in specific cities and tells the story of their (sorry about the pun) impact. I have watched the ones about Hull and Clydebank and they are both heart-rending and offer an insight into their longer-term consequences. Both cities suffered immense losses of population and housing stock and both were bombed in the same week in March 1941.
So here I am, writing about a specific bomb that dropped on Bursar Street, Cleethorpes in the same week in March 1941 and then this programme appears on TV! Often the bombs that fell on Grimsby / Cleethorpes were left over from Hull and dropped on the way back. Hull was the bigger prize. Grimsby was mainly a fishing port. Although the trawlermen played their part in both world wars.
My Swedish grandfather skipper (whom I never met) captained a minesweeper off Aberdeen in WW1. My great-grandfather skipper was blown up by a mine in 1919 after serving through the war. Sailors from Grimsby took their small boats to Dunkirk and helped to rescue troops from the beaches.
There were raids on Grimsby but they were not catastrophic as the Clydesbank one was. Just 12% of its housing was left undamaged after two nights raid. Virtually the whole population had to self-evacuate but then the men returned to be at work on Monday. Unimaginable and heroic.